How to create beta account and redeem the key
If you are looking for
THE FASTEST WAY
to reach the level cap with any class within a week, this
ESO Leveling Guide
by
ESO Mastery Guides
is a definite must have. It comes with step-by-step leveling guide, proven class builds, dungeon walkthroughs, crafting and gold making strategies and more.
There are a lot of questions about how to create beta account for taking part in ESO Beta events. This guide will help you to do this just follow the instructions and everything will be OK.
NOTE: You can take part in closed Beta events only if you have Beta Key.
If you didn't have it – this guide will not help you.
1) Go to your e-mail box and find an e-mail from ZeniMax. NOTE: you can skip this step if you received a key from your friend.
E-mail contains the most imporant information you need to create the account - the Key. There is also information about the day and time of the event. Many of the players think that the download link is also in the e-mail, but it is not there. You need to create an account first in order to get link.
2) Now you need to create account. Click "CREATE MY BETA ACCOUNT" link in the e-mail or just visit https://account.elderscrollsonline.com/register/account-information and you will see the form you need to fill. The process is easy and I don't think that you will need a guide for this.
3) Once the account is created, log-in using your details. You will see dashboard where you can manage your ESO account.
4) Do you see the "Redeem Code" button on the right? Click it and you will see the form. Paste the Beta key you received from ZeniMax or from your friend in the form and click redeem.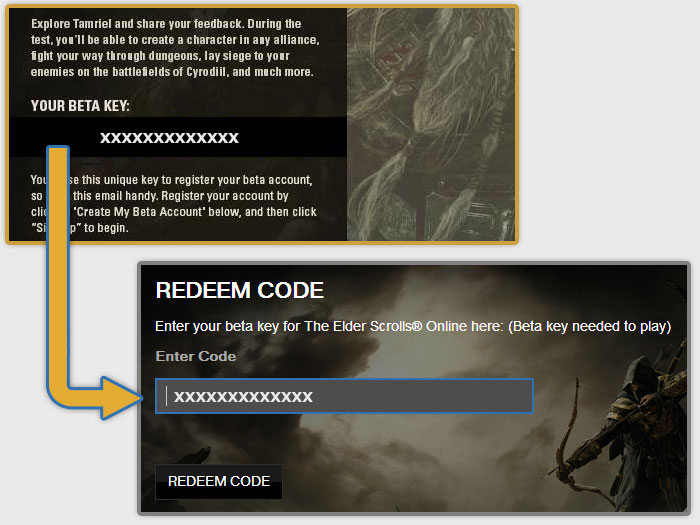 Now you are allowed to participate in Beta.
5) Download Beta Client
The next step is downloading and installing Elder Scrolls Online. After you redeem the key you will see links that allow you to download ESO in your account. The picture below demonstrates where the links are.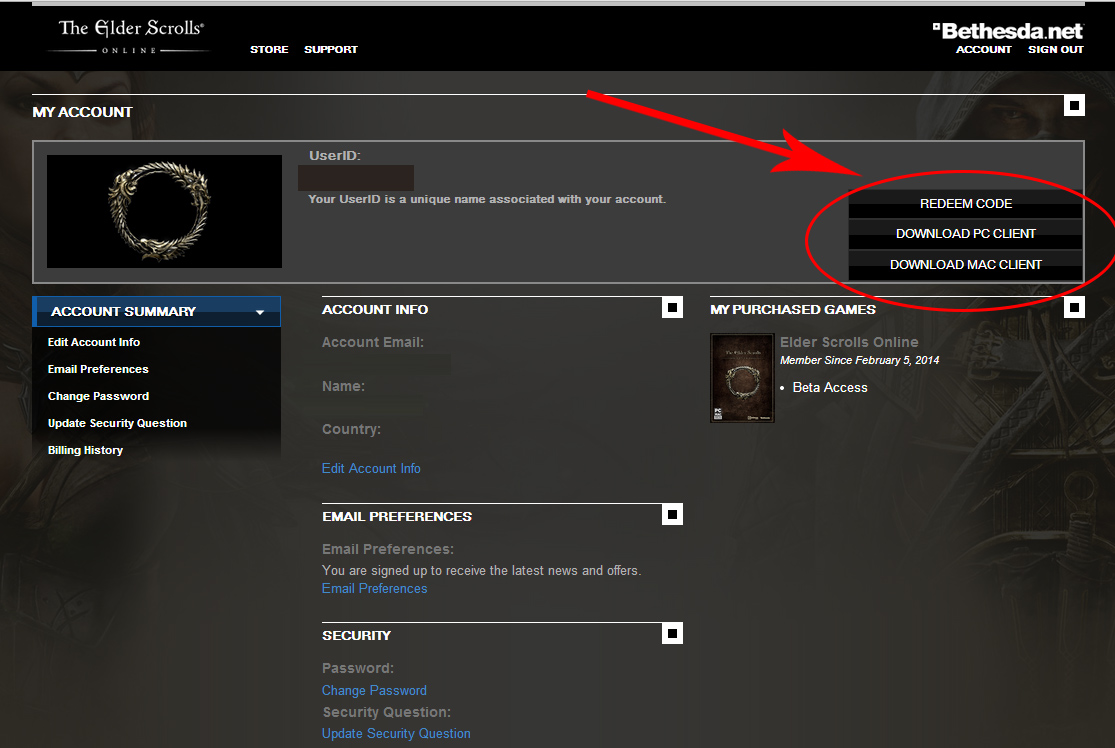 Hope this small guide will help you to create the account fast.
Troubleshooting
Sometimes there is a problem occurs: you redeem the key but the download link does not appear. You need to Redeem the code once again and the link will appear.