If you are looking for
THE FASTEST WAY
to reach the level cap with any class within a week, this
ESO Leveling Guide
by
ESO Mastery Guides
is a definite must have. It comes with step-by-step leveling guide, proven class builds, dungeon walkthroughs, crafting and gold making strategies and more.
Elder Scrolls Online is a subscription based MMO. When you purchase Elder Scrolls Online you receive 1 month of free game time but when free month is over you need to buy extra game time in order to continue playing. This is called "subscription". You need to pay for getting access to the game.
Where to manage subscription?
When you are in your account you can see the menu in the left hand part of the screen. This menu allows you to navigate to different sections of your account. Find MANAGE SUBSCRIPTION and click it. You will see a section where you can change subscription parameters.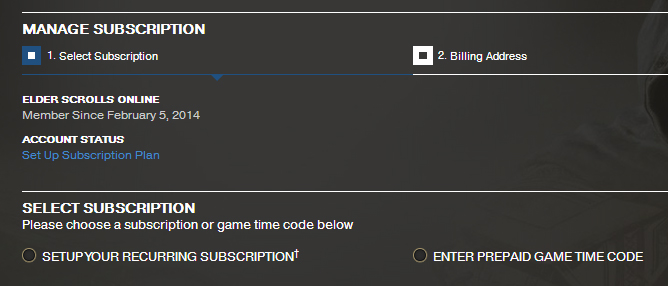 If you are in this section for the first time you will see that you have no any plan selected. And you have two options: Setup Your Recurring Subscription or Enter Prepaid Game Time Code. The general difference between these two options is that the first one allows you to purchase game time right from ZeniMax Online and set up recurring payments, while the second option allows to purchase/get time card elsewhere and activate it for your account here.
Setting up Recurring Subscription
Recurring Subscription allows to set up recurring payments for the game time. It's a pre-paid option and you will be charged in the beginning of each period.
ESO offers 3 game time packages: 30 days, 90 days and 180 days. If you chose the first option (30 days) you will be charged month by month and it will cost you $14.99 per 30 days but if you purchase several months at a time the cost of 1 month will be lower. Prices and discounts are shown in the table below.
| | | | |
| --- | --- | --- | --- |
| | 30 days | 90 days | 180 days |
| Cost of 30 days | $14.99 | $13.99 | $12.99 |
| Total Cost | $14.99 | $41.97 | $77.94 |
| You save (compared to monthly payments) | | $3 | $12 |
For credit cards, debit cards and PayPal there is no charge made until after your included 30 days of game time has expired. For these payment methods, there is an authorization check performed to ensure the payment method is valid. You may see a temporary account authorization hold put on funds in your account while the verification completes. Usually this authorization hold lasts a short period of time before being removed. The duration of this hold can vary from bank to bank.
Please note – an Authorization Hold is not a charge to your account. It is a routine temporary hold to help protect our community from acts of fraud.
Authorization Check is Immediate
Visa Credit Card
MasterCard Credit
Paypal
Prepaid Credit Cards
(American Express CC & Amex Prepaid can take 3-7 days)
Debit Cards
Players using Webmoney, ideal, PaySafeCard, or Giropay to set up their subscription plan will see the entire charge applied against their account immediately and the acquired game time will be activated after the initial 30 Days of free game time has run out.
Billed/Applied immediately
Webmoney
Ideal
PaySafeCard
Giropay
Gametime Cards
All plans are pre-paid meaning you need to pay first before playing.
The next payment cycle will start when you have no game time left. In our example you will be charged for another 180 days after previous 180 days are over. All game time is bound to your account. You are not required to pay for every character you have.
All game time is counted in calendar days. You pay for x calendar days of game access. The time you spend in the game doesn't matter. You can play every day or once a week but when your x calendar days of the game time is over you will need to pay again.
Changing Recurring Plan
It's possible to change your payment plan. You may return to "Manage Subscription" at any time to change your subscription settings for future cycle. That means if you decide to change the plan from 180 days to 90 days or 30 days you can do it any time you wish.
Prepaid Game Time Code
This option allows you to activate ESO game time code. It doesn't matter where you obtained the code: you can purchase it from a retailor, receive it as a gift or win it in a promotion. Unlike prepaid game plans this option is not recurring. That means you will not be automatically charged and once the game time is over you will need to enter another code or set up Recurring Plan.