If you are looking for
THE FASTEST WAY
to reach the level cap with any class within a week, this
ESO Leveling Guide
by
ESO Mastery Guides
is a definite must have. It comes with step-by-step leveling guide, proven class builds, dungeon walkthroughs, crafting and gold making strategies and more.
You can download Elder Scrolls Online from the official website. This guide will help you to get the launcher and install the game.
Step 1) First of all you need to visit official website and log-in: https://account.elderscrollsonline.com/. If you don't have an account you need to create it. If you have an account, enter your Login and Password.
Step 2) Find "Download Game" button and click it. This action will allow to get the launcher installer.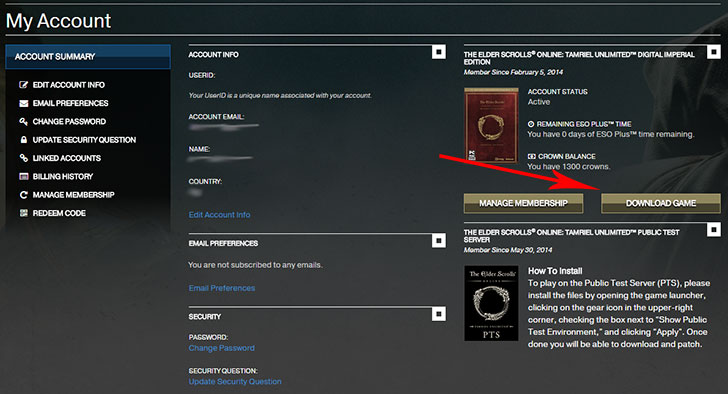 Step 3) Install the launcher. You will be asked to specify the folder. Launcher will download the game to this folder later. The game and the launcher will be in the same folders! So make sure you have enough disc space. 35 GB of free space will be enough. After the launcher is installed, run it and download Elder Scrolls Online.
Downloading speed may vary a lot. Sometimes it will be high, sometimes low. Don't panic if the speed is too low, just wait. That's because too many people are trying to get the game simultaneously. There is no other website or link where you can get latest ESO version!
For Beta Testers Only:
If you are selected as a beta tester you have permission to do it. Each Beta tester receives access to the download link after creating Beta account.
First of all you need to create account and add the key to your account. We have a special guide that will help you: How to create beta account and redeem the key. After the key is redeemed you will see download links in your account. The image below demonstrates where they are located: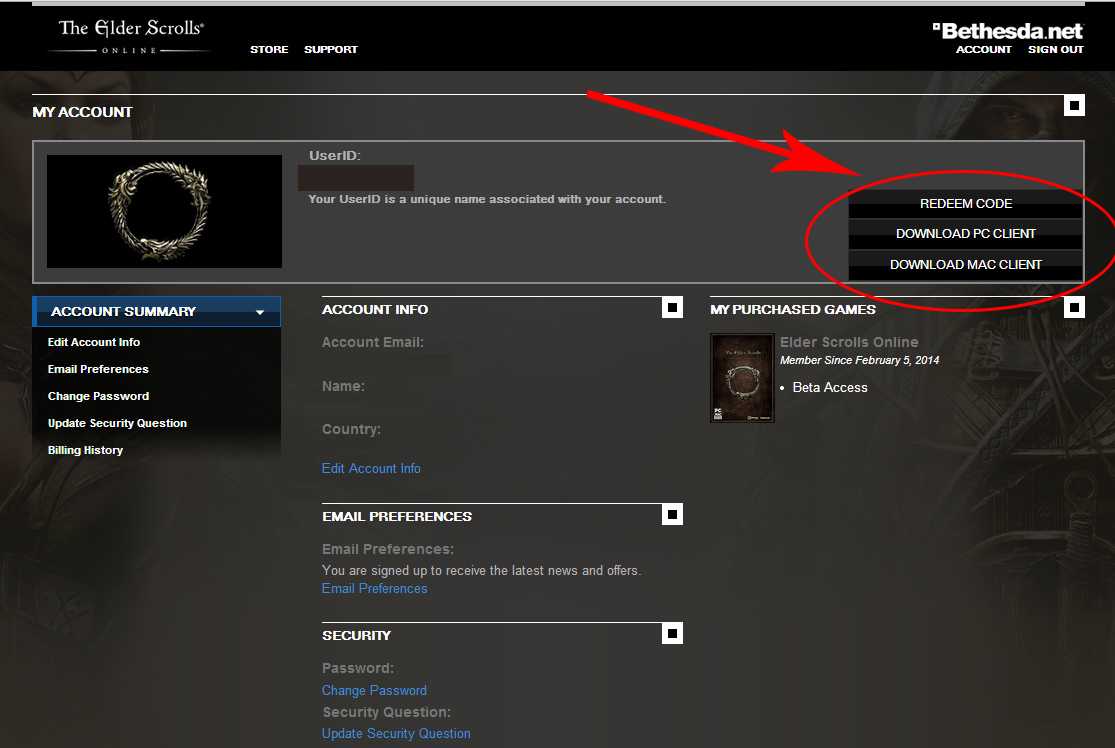 These links allow to download ESO Launcher from the official website for testing purposes.
First of all you need to download the launcher (the size of the launcher is about 55MB). Then you need to run it and download the full game. The size of the game is about 50 GB. So if you are selected as a tester you should start downloading in advance. This will allow you to finish in time and you will not miss your opportunity to participate in Beta.
Is it required to reinstall the game for the next Beta event?
No, it is not required to reinstall the game. If you will be invited to the next beta test you will be able just to update the game. It will take less time than downloading the full client again.
I want to play but I have no key...
You will probably start searching for keys to be able to play the game. Do not do it! There are a lot of scam websites where you can get virus. Such sites tell visitors "You can get beta key on our website" but do not trust. Only official ESO staff can give you real invitation with a key. To avoid troubles read the article: How to avoid BETA key scam?
Summary:
It is possible to download Elder Scrolls Online from the official website only. You need to get the launcher first and then download the game.