If you are looking for
THE FASTEST WAY
to reach the level cap with any class within a week, this
ESO Leveling Guide
by
ESO Mastery Guides
is a definite must have. It comes with step-by-step leveling guide, proven class builds, dungeon walkthroughs, crafting and gold making strategies and more.
NOTE: This is not an addon. It's a feature that was removed.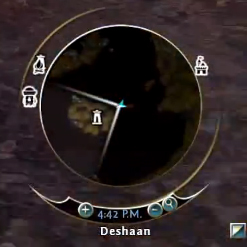 The minimap, or mini map, is a circular, zoom-able overhead view of the area around your character.
There is no minimap in ESO now, because it was exchanged with compass (like in Skyrim). Developers noticed that the original minimap didn't stimulate players to explore the world. Many of the players were looking at the minimap and didn't pay enough attention to what's going around. They saw it in one of beta tests and decided to remove minimap from ESO and add compas instead..
- Your character is in the center of the minimap. He is represented by a blue arrow that points the direction your character is facing. White lines show you coverage - the area you can see on your screen (1/4 of the surrounding world).
You can also see other important nearby objects. Each group has its own icons.
Minimap is a useful tool because it helps to orient oneself and move towards your goal without looking at Global Map.
Zoom buttons are situated below the map. Use the buttons to increase or decrease the size of the showing area.
Location name
The name of current location can be found below zoom area. When you enter a new location the displayed name will be changed.