Dunmer (Dark Elf) - Description, Racial Bonuses and Penalties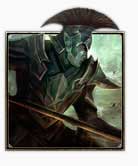 Dunmer is a race of elves. They are also known as Dark Elves. These two terms mean the same race.
They belong to The Ebonheart Pact so if you chose Dunmer your allies will be Nords and Argonians. Their homeland is Morrowind.
« Vote for Dunmer. Click "Recommend" if you are playing or are going to play as Dunmer. The results will be saved and compared with results of other races.
The appearance of the Dunmer race is similar to other elves but Dunmer have red eyes and dark skin. That's why they are called Dark Elves. If you see an elf with red eyes it is Dunmer. They are rather tall: taller than Bosmer but shorter than Altmer.
They are very strong, quick and have awesome intellect. Such a combination of talents allows them to be good warriors or sorcerers. They like melee hand-to-hand combat and the art of magic. Many awesome warriors and mages can be found among the Dunmer. They are also good assassins and some of them work for the Dark Brotherhood.
Racial bonuses and penalties
| | | |
| --- | --- | --- |
| | Ambidexterity | - Increases experience gain with the Dual Wield skill line by 15%. |
| | Dynamic | - Increases maximum Magicka and Stamina by (2/4/6)%. |
| | Resist Flame | - Increases Fire resistance by (10/20/30). Increases maximum Magicka by (1/2/3)%. |
| | Flame Talent | - Increases Spell Power with fire effects by (1/2/3). |
Other playable races
Dunmer (Dark Elf) - Description, Racial Bonuses and Penalties was reviewed by Elderscrollsonline.info and earned a 9.0/10 rating.
You need to login to add comments.
Share the information with your friends
New videos at our ESO YouTube Channel
New Videos:
New quests
What Was Done Must Be Undone, Signals of Dominion, A Thorn in Your Side, A Little on the Side, Whose Wedding?, Nothing Left to Waste, Two Sides to Every Coin, Ezrebas Fate, Lost on Bleakrock, The Ladys Keepsake,