ZeniMax Online finally announced bonuses that a player will receive for pre-ordering Elder Scrolls Online. There are 2 variants of the game available for pre-ordering:
standard edition
and
imperial edition
. Both editions will provide you with following bonuses:
Explorer's Pack:
Early access to the game – from the 30th of March
Your characters can join any of the alliances, no matter which race you choose.
Scuttler pet
Extra Treasure maps that can be found during your explorations
The digital collectors' edition will offer you some extra features:
New Imperial race
Imperial horce
Mudcrab pet
Rings of mara: Complete the Ritual of Mara with a friend and receive an experience bonus when you play together.
The physical collectors' edition also includes tree souvenirs:
Printed map of Tamriel
Emperor's Guide to Tamriel (a 224 page illustrated guide to the game)
A Molag Bal statue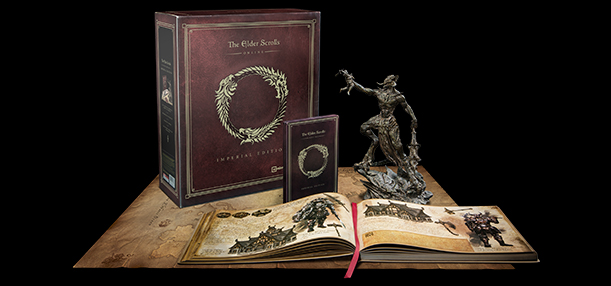 Most of these bonuses are pretty standard but two of them are really unexpected. I mean new Imperial race and the removal of faction locks. Atropos from Tamriel Foundry published a really good article about it and I would like to add some new thoughts about the removal of faction locks as this is the most unusual part of the bonus for me.
Let's start from some information about Explorer's Pack from official website of the game:
[ If players pre-purchase the game through The Elder Scrolls Online Store (https://store.elderscrollsonline.com) or pre-order at any participating retailer, they'll receive the Explorer's Pack, a digital bundle that includes: ] — The ability for the player's characters to join any alliance, no matter which race you choose — The Scuttler, a tiny but loyal vanity pet — Four bonus treasure maps that will lead the player to loot.
The world of Elder Scrolls Online is based on Alliance war. Three alliances are fighting against each other and each alliance consists of 3 races. Developers created a system where each race is connected with certain faction. It was their "policy" right from the announce in May 2012.
But the Explorer's Pack that comes with a pre-ordered game allows to choose any race regardless of the alliance. And this bonus is not about only one character. Read: "The ability for the player's characters". Thus all your characters may benefit from it.
To receive Explorer's Pack you need to pre-purchase ESO. But is this the only way to get it? I don't think so. My guess: it will be possible to purchase Explorer's Pack after the release. It is not pre-purchase only bonus. I think every player will be able to buy this pack from digital shop of ZeniMax. If this Pack is not available to all people after the release there will be two groups of players: one group can choose any race for any faction and the other can't do it. And this will be the really really unfair.
I will not go further and talk about how the Pack will influence gameplay. I will not also talk about reasons to lock and then unlock factions. But I would like to know your opinion. What do you think about Explorer's Pack? Do you like that faction locks will be removed?
If you are looking for THE FASTEST WAY to reach the level cap with any class within a week, this ESO Leveling Guide by Killer Guides is a definite must have. It comes with step-by-step leveling guide, proven class builds, dungeon walkthroughs, crafting and gold making strategies and more.