There are a lot of different items in Elder Scrolls Online that can be found within Tamriel or created by players. Developers say that there are 40,000,000 different weapon variations. I believe the number of different armor variations is also great. Many of these items give players different bonuses, but there are special sets of items that will give you special bonuses for wearing several pieces of the set. The greatest thing is that the set pieces can not only be found but can also be crafted by players. Blacksmiths, Woodworkers and Clothiers can all craft parts for item sets.
In general there are 2 types of sets in ESO: 3-piece sets and 5-piece sets. 5-piece sets usually have 2 levels of bonuses: for wearing 3 items and for wearing 5 items. That means if you put on 3 pieces you receive the first-tier bonus and if you wear the full set you get an extra bonus. Of course, if you wear only 2 items from the set you don't get the bonus.
As for now there are 19 different sets a player can create: 8 sets that consist of 3 items and 11 that consist of 5 items.
How set pieces are counted?
Each item from a set you wear is counted as 1 part of the set. For example, if you want to collect 3 pieces of a set you can equip 2 swords and a helmet; or boots, helmet and a two-hander.
Any character in Elder Scrolls Online has 9 item slots and you can use any of these slots for your set items. But there is one thing you need to know: two handed weapons count as one piece of a set. Thus your weapon choice becomes very important because it affects the number of sets you are able to wear.
One Handed + Off Hand
3-piece set + 3-piece set + 3-piece set
4-piece set + 4-piece set
5-piece set + 4-piece set
Two Handed
3-piece set + 3-piece set + 2-piece set
4-piece set + 4-piece set
5-piece set + 3-piece set
Maybe this will be change in future updates but right now this is how it works. I didn't have chance to check it myself but when I can I will do.
List of all sets in ESO
The table below will help you to find the best set for your character. It contains information about set bonuses and the location of crafting stations.
Note: Strength of set effects depend on the ingredients you use for crafting. The higher the level of the ingredients is the better the effects will be.
The description below is taken from VR14 Items with Legendary (Yellow) quality.
Crafting Set Pieces
Any Blacksmith, Woodworker or Clothier can craft set parts in Elder Scrolls Online. But don't go rushing in search of crafting stations just yet. There are two crucial requirements:
First of all there is a Trait Requirement: you need to have a specific number of traits discovered on that particular item type in order to be able to create it. Different sets require different amounts of discovered traits. For example, the lowest requirements are the Night's Silence, Ashen Grip and Death's Wind sets – you will need only 2 traits discovered on the item in order to craft it.
Notice: each item type requires its own traits to be discovered. If the trait requirement is 2 and you have 2 traits discovered on daggers only, you will be able to craft set daggers but no other items. This is one of the main reasons to research different traits.
The second requirement for crafting items from set is that you must use special crafting stations. All crafting stations you find in cities are useless when it comes to crafting set items. You need to search for special stations. Each faction has only 1 place where a specific set can be crafted. Some crafting stations can be found only after finishing specific quest lines: for instance you will find the crafting station for the Kagrenac's Hope set after finishing the Fighters Guild quest line.
The good news is that all crafting stations for a specific set are located in one place. You will find the Blacksmithing station, Woodworking station and Clothing station all in the same area.
The image below shows crafting interface for creating set items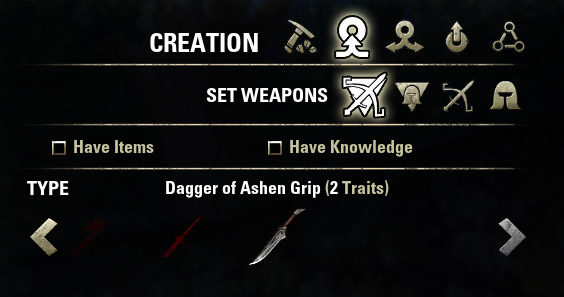 Making a Set Item
Once the Trait requirements are met and you've found the crafting station you can finally create an item. The crafting process of a set item is similar to crafting all other items.
Tip: I believe you wish your set to be awesome. Don't forget to use your discovered traits to add extra bonuses to your items. Also, don't forget that all crafted items have Normal quality and set items are not exception. You can improve set items to make them even better using the "Improvement" tab. Aim to enchant your items with the strongest glyphs. These steps will allow you to further customize your set and make it even better.
Profit
Item sets are not just great pieces of gear. You can craft items from different sets not only for personal usage but also for sale. As you see it's not easy to create pieces of high level sets. An average crafter will not be able to do it and that's where your profit starts. You can craft full sets and sell them to other players, earning yourself good money. It can be a very profitable business.